You're broke. You finish a grueling gig, and your cut of sales is $15. You and your three bandmates have rumbling stomachs, morale is low, and the only thing open is Taco Bell. You order as much as you can and chow down, only to be greeted with that terrible bloated feeling that is the embodiment of fast food regret… And tomorrow night, you'll do it all over again.
I hope this blog reaches you before you get to that point, because once you go down the rabbit hole of fast-food-diet on tour, it's hard to come back from it. Eating like this is discouraged by healthy people everywhere for good reason – because it's horrible for your stamina and a nightmare for your general well-being. I'm thoroughly convinced that unhealthy food habits on the road are one of the top five reasons why bands get so sick of touring.
Eating out is expensive. Calorie for calorie, groceries are cheap, so even if health isn't a huge motivator, your budget should be. Of course, you will often get food comps from venues where you perform, but when that comp is really just a discount and the only food available is deep fried, you'll be able to fall back on something fresh, filling, and affordable.
I know it's hard to imagine how we can eat better when all we have in our arsenal is a small food stipend and nowhere to cook. I want to offer some tips for preparing your own meals on the road, especially if you don't transport a kitchenette with you and you're on a tight budget.
Please note that I'm not a doctor. If you've been given medical advice about what to eat, follow it. Your doctor knows your dietary needs best, and I'm just a stranger on the internet. This is not medical advice.
Get a cooler. The best way to transport fresh fruits and veggies is with a little ice and some water-tight Ziploc bags. Depending on how many people you have in your group, you'll need to adjust the size of your cooler and how much food you bring along.
Below is my list of fresh foods that transport easily, are cost effective, can be stored without too much fuss, and don't necessarily require cooking.
Fruits:
Apples
Oranges / tangerines / cuties
Bananas
Grapes
Vegetables:
Carrots
Sugar snap peas
Fresh spinach
Cauliflower
Broccoli

Pro-tip: bring some salad dressing to dip the veggies.
Nuts and dried goods:
Peanuts
Almonds
Trail mix
Popcorn
Granola bars
Peanut butter
Crackers
Drinks:
Bottled water
V8 juices
La Croix or other low-sugar sodas
Bottled coffees or sugar free Red Bull if necessary
What to avoid:
Sugary sodas: grab a sparkling water instead
Jerky: high sodium and fat content will make you feel bloated
Candy bars: avoid excess processed sugars whenever you can
Cup of noodles and other ramen cups: these high-calorie, low-nutrient foods fill you up, but they really take a toll on your body.
Fresh meat, eggs, and tofu: coolers are great for veggies and fruits, but temperature fluctuations inside a tour van means you run the risk of spoilage. Canned meats like tuna are probably fine, but I wouldn't bring along anything that requires consistently cold temperatures.
Get a multi-use cooker. On our first tour, we brought along an Aroma 20 Cup Digital Cooker.
This incredibly versatile little rice cooker can be used to slow cook, steam, and sauté rice and vegetables. Although you'll get a lot of protein from nuts and broccoli, with a cooker you can include other high iron and protein items like beans and brown rice.
You'll need a pretty hearty inverter to run a multi-use cooker like the Aroma 20 Cup, but there are also crock pots that are designed to run on your van's 12V plug, which means you can cook your food as you drive to the gig. Check out this list of one-pot meals that are perfect for a latching crock pot. You can also set up any of these cookers on a hotel room outlet without the fire hazard of an exposed heating element.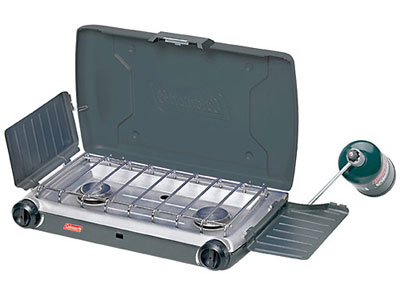 Camping stoves are a great alternative to multi-use cookers. Any camping supply store will have little portable propane stoves you can use to cook. You'll need to supply pots and cooking utensils, but having a freshly prepared meal on a portable gas stove is worth the trouble if you have space. Just don't use this indoors.
Below is my list of cost-effective foods you can add to the above groceries if you plan on cooking meals on the road.
Canned foods:
Black, pinto, garbanzo, green, and kidney beans
Hominy or corn
Coconut milk
Tomatoes (diced, stewed, etc.)
Soups and stews
Dry goods:
Rice (brown and white)
Oatmeal
Gallon container of water for cooking
Potatoes / sweet potatoes
Onions
Your favorite cooking oil (olive oil, peanut oil)
Utensils for cooking:
Cutting board
Knives
Soap and sponges
Tongs
Spatula
Pro-tip: bring a variety of spices, including salt and pepper, to add flavor to your road meals. Many of the slow cooker recipes above can also be made on a camping stove with a pot given patience.
Of course, bringing along all of these supplies requires space, which means you might have to get crafty with your road setup. Most bands should be able to fit a week's worth of ingredients in a Rubbermaid Tote pretty easily. These totes are about the size of a kick drum but are much more conveniently shaped for stacking. Plop one of these on top of a bass amp and you should be good to go.
Refueling is simple when you're getting groceries instead of take-out, too. Most cities in the US have 24-hour Walmart stores on the outskirts of town, perfect for those of us living most of our lives after dark. I've also visited a variety of farmer's markets across the country, vegetable stands on roadside stops, and other local grocery stores at normal hours. Whatever your go-to is for getting hold of fresh ingredients, you should be able to find them wherever you go.
I could go into a lot of detail about preparing specific meals and breaking down ingredients for their nutritional value, but I feel like this gives you a good idea of how healthy eating on the road is probably more accessible than you'd think.
As a side note, don't let the up-front cost of a multi cooker or camp stove deter you from getting one. Someone in the band should consider getting these things just because they're so useful, both at home and on the road, which means these items pay for themselves over time. When you eat out, you don't get any return on your investment. If you're able to get a slow-cooker up front, the return comes back many times over. If no one in the band can supply a slow cooker or camp stove, see if you can borrow one from a parent or a friend.
Did I miss anything? Are there any points you'd like me to cover in the future? Did you find this blog useful? Let me know in the comments!